Pleased to meet you!
I'm Dr. Amir Rubin. I have dedicated the last 20 years to study, research and treatment in the field of orthopedics and joints. 
The way I see it, joint replacement is not just surgery – it's a process. The process begins well before the patient enters the operating room and continues long after leaving it. All body systems are involved in this process, and the related treatment must involve the whole person and not just the joint. It is my conviction that this approach, supported by the most up-to-date medical knowledge, can facilitate a better experience of joint replacement recovery.
It's 1994 and I'm a 4th year student at the Hebrew University School of Medicine, simultaneously working as a nurse at the Department of Orthopedics at Hadassah Ein Kerem Hospital. Just before the end of one of my shifts, a back surgeon named Dr. Mike Milgrom came in to check on a patient after her surgery. The sun had just arisen and the first rays of daylight fell on Dr. Milgrom as he held the arm of the elderly patient, supporting her with what appeared to me to be infinite gentleness. I now know that holding an orthopedic patient involves crossed arms to increase control of stability. To my student eyes, the doctor transferred strength and confidence to the patient through his touch, allowing her to overcome her difficulties.
Working with heavy mechanical equipment on the one hand, and a direct emotional link with the patient on the other hand…
At that moment, I knew I had found my home in orthopedics.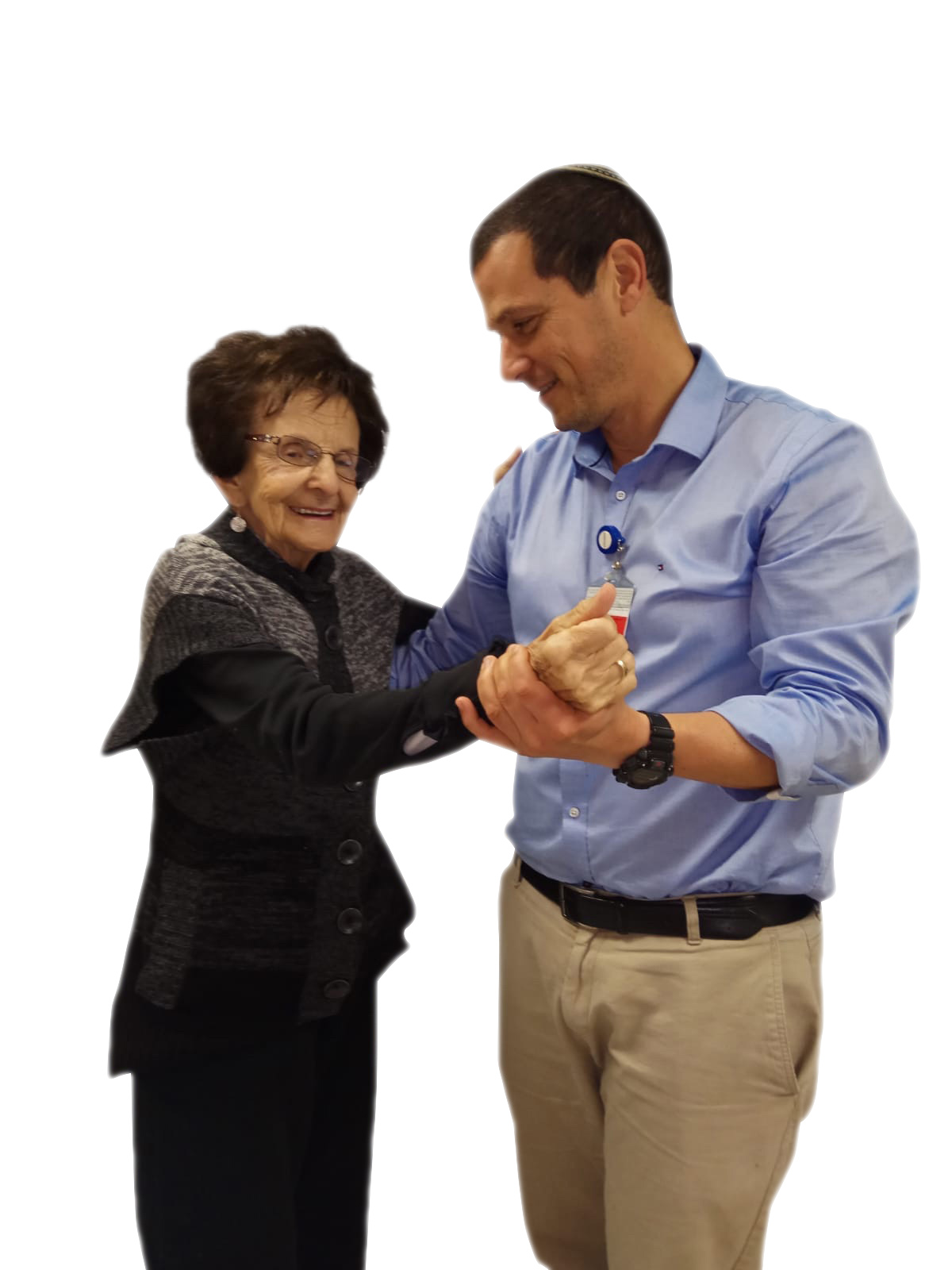 My Professional Background
It's 2007. Having just completed a sub-specialization in joint replacement at St. Vincent's Hospital in Sydney, Australia, I joined the Joint Replacement Unit as a senior surgeon, rolled up my sleeves and got to work. It didn't take long for me to discover that most patients suffering from pain with underlying cartilage degeneration are not truly suitable for surgery, for a variety of reasons. Throughout my training, I was never taught anything about non-surgical treatment for such cases. My colleagues were satisfied with giving a referral for physiotherapy, recommending anti-inflammatory drugs or injections at times. But I was not.
I started researching the issue by studying the most recent scientific literature on the physiology of pain with underlying cartilage degeneration. I was exposed to a self-treatment approach that provides the patient with tools to manage the treatment of pain by themselves. But how is the patient supposed to heal the issue of their eroded cartilage?
You can imagine my dismay when I discovered that everything I had learned was already known to be incorrect for at least 20 years. In fact, current studies indicate unequivocally that cartilage does not erode, it thins, and that most cartilage injuries do not lead to pain. The pain is not caused by bone-on-bone friction and in many cases even alleviates by itself regardless of treatment.
Encouraged by the program's impressive results in my patients, I began examining how the principles of "active therapy" could be adapted to recovery from surgery using what is called Rapid Recovery – a massive medical activity and research project. I felt that the Israeli versions of Rapid Recovery did not adequately use the idea of enlisting post-surgery patients to treat themselves – there was too little "active therapy" involved. The high point of the process occurred during my visit to a major hospital in the Dutch city of Delft where I was astounded to see patients climbing up and down the stairs three hours after a hip replacement and leaving for home six hours after completing surgery. I asked my mentor whether this was a matter of discipline and whether he believed that Middle-Eastern patients could be as disciplined as their Dutch counterparts. Dr. Wehmeyer's answer was straighforward: "This is not an issue of the psychology of the patient, but rather the psychology of the physician."
I rolled up my sleeves once again, and developed my version, which I called "Rapid Recovery" and not "Quick Recovery" (as required by a literal translation of the term). Over the course of two years, I piloted the formation of a multidisciplinary team to implement the approach at the Joint Replacement Unit at Shaare Zedek Hospital.
It's 2017, and analysis of the data collected about patients in the department before and after implementing the Rapid Recovery method demonstrated a drop in post-surgery hospitalization days by more than half. The number of patients reporting an easy recovery increased dramatically. I decided that the time had come to spread the method to the Assuta and Merav Hospitals in Central Israel.
I am currently editing the third edition of "Active Therapy," and the second edition of the Guide to Rapid Recovery. I have developed a training program for general practitioners and give a lecture series on this topic throughout Israel. I have set up a multidisciplinary clinic at the Clalit HMO to help those considering surgery. I developed a training method for joint replacement specialists that is based on teaching methods used in aviation school. To date, I have trained hundreds of medical students in the proper approach to treating patients in pain.
I vigorously continue promoting the fields of Active Therapy and Rapid Recovery, and I feel truly grateful and appreciative of the opportunity to hold the hands of thousands of patients and give them the strength and confidence they need to help them overcome their difficulties, with or without surgery. I would be happy to meet with anyone who is uncertain about what treatment they need, and if surgery is indeed required, to guide them through the Rapid Recovery method to ensure optimal recovery.